What do you do when the nipple pain is making you dread every time you need to breastfeed your newborn? Here I share what to do when breastfeeding hurts plus tips to remedy sore nipples that I wish I'd learned sooner.
This post contains affiliate links, which means I make a small commission at no extra cost to you. See my full disclosure here.
Isn't Breastfeeding Natural?
Breastfeeding is supposed to be a natural and beautiful. Breastfeeding is such a special way to bond with our baby. As new moms we want to give our babies the best, and we are convinced breast is best, right? It's supposed to be the most nutritious, packed with benefits specific for your growing baby's needs. So when breastfeeding hurts, we are driven to find solutions.
Now there's no shame in being unable to breastfeed. That could have easily been me if it we not for my supportive husband and midwife. But, I have yet to meet a mom who's preference is to skip the breast and use formula alone. I'm sure they are out there, and no judgement as there is no one way to mother. Loved and fed is best.
However, I've witnessed other new mama's struggle through the pain of nursing until a pain free breastfeeding relationship is established. Others being unable to breastfeed commit to pumping for bottle feeding, so they can still make sure their baby is getting their breastmilk.
I hope you will find these breastfeeding tips helpful to achieve pain free nursing with your newborn.
A Bit About My Journey
I though breastfeeding is natural so how hard should it be, right? I'd taken a class, listened to a book on how to breastfeed, I was set, or so I thought.
When my first was born, I would describe nursing as the most painful thing I've ever gone though! It was worse than labour, with no end in sight. The pain had started after the first time I nursed my newborn.
In the hospital I was told, maybe your nipples are just needing a bit of "toughening up" before nursing is pain free? Maybe your nipples are a bit inverted and you can first encourage them yourself to stick out, then it should be fine? Try sitting up straight (Try telling that to my sore perineum?! Ouch!) Keep practicing a good deep latch, it is normal feel some pain at the beginning.
Quickly after arriving home I was dreaded every single feed! I would stamp my foot in pain, hold my breath, clench my teeth, and hunch shoulders up to my ears until the sucking somewhat numbed the pain and I could relax – a little.
It was a long journey for me, as a sleep deprived new mama, desperately trying to continue breastfeeding my newborn.
Sore Nipples? What To Do When Breastfeeding Hurts
By day three I already had cracked, blistered, bleeding nipples as well as having engorged breasts. I turned to my midwife for more support. Here are the tips I learned through my breastfeeding journey as a new mama.
Make sure baby is latching well, watch the below videos with your partner
Ask partner to help you make sure baby's latch is good
Air dry the nipples, but NOT if you have nipple vasospasm
Apply fresh breastmilk
Apply nipple cream (or All Purpose Nipple Ointment if in extreme pain)
Use Plastic (Saran) wrap! Seriously!
Change breast pads often to keep breasts dry
Vary nursing holds
Wear a comfortable, loose fitting bra
Use hot and cold compresses (avoid cold if you experience vasospasm)
Take a hot shower and hand express milk to relieve engorgement or use a Haakaah manual breast pump while nursing (It made a world of difference!)
Ensure there are no plugged ducts
Rule out any tongue ties
Surround yourself with support: a professional (LC or IBCLC) plus reach out to your local Lalach League leader, join a breastfeeding circle, a breastfeeding facebook group, or talk to experienced mamas you know.
When Breastfeeding Hurts, Use Plastic Wrap!
Plastic wrap will help your cracked nipples heal so much faster with much less discomfort! Wrap it up as soon as you notice a crack.
My midwife told me to put the nipple cream on after feeding my baby. Then cover the cracked nipple with a pice of plastic wrap until the next feed. Repeat, repeat, repeat.
This means the nipple can heal without a scab forming, being pulled off by the baby suckling, to reform in between feeds and repeat. This cycle is painful.
Plastic wrap keeps the nipple moist while it's healing, the cream helps prevent against an infection (especially All Purpose Nipple Ointment, which your midwife or Doctor can prescribe). Theres minimal discomfort with faster healing! It's amazing!
How To Get A Good Latch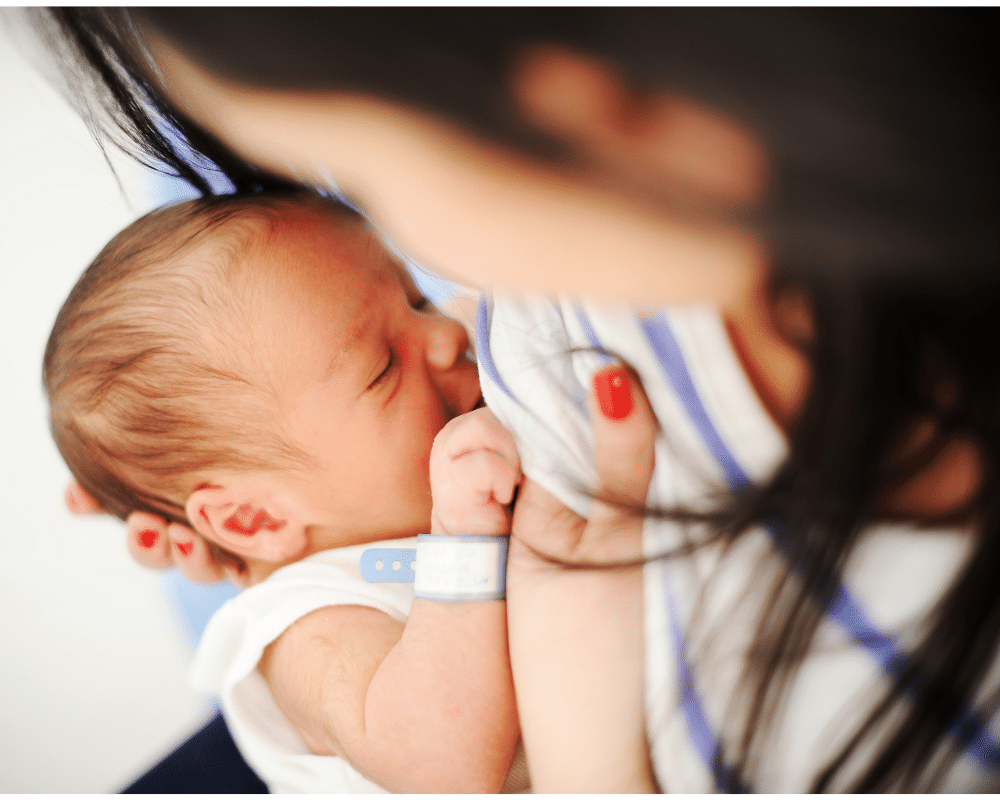 My midwife said to make sure the latch was deep. She had already ruled out any tongue tie prior, as this can be the cause of damaged nipples.
My midwife sent me these videos to make sure I was getting a really good latch with my newborn. My husband and I studied them, then both of us worked together, latching and re-latching our baby to make sure we were getting the correct position for each feed.
We found Dr. Jack Newman's video incredibly helpful, as in our western culture it is not common to see a mother breastfeeding. As new mothers we typically have no idea what a good latch should look like.
Dr. Jack Newman shows mothers breastfeeding their babies. The mothers demonstrate how a good latch should look, how to get a good latch and what to do if it's not right the first few times. Watch his video here.
Another video I found also helped us visualize how to get a deep latch with our newborn. The woman uses sock puppets to demonstrate how to use the nipple flip while putting the nipple to the nose which helps the baby open wide and get a deep latch. Watch this video here.
Mama, Your Nipples Will Heal
A good friend reassured me that if I persisted in breastfeeding my nipples would heal. Her's did, even though they were also very damaged and painful. I held onto this hope, through clenched teeth, during the painful nursing feeds as my nipples healed.
My nippled did heal, and yours will too mama! My encouragement to you it don't give up as it's so worth it. I've breastfeed my first for almost two years, and I wouldn't trade it for the world! Breastfeeding is amazing, it changes to provide exactly the nutrients your growing baby needs, it's always on hand when your little one needs some food, and the bond that is created with your baby is incredible.
For me, however, it took more than just these 14 tips and more time than most to heal. Typically, these would have done the trick, but I had more going on. I was also dealing with nipple vasospasm.
Read how we discovered why breastfeeding hurts, even with a good latch, because of nipple vasospasm here. I talk about what it is and how we successfully treated my sore nipples so that I was able to successfully breastfeed without pain over one and a half years.
What did you do when breastfeeding hurt?
Did you struggles with breastfeeding? Was it harder than you expected? Let me know in the comments below what things made a difference for you and your sweet baby?
Check Out More Posts On How to Breastfeed Successfully
Breastfeeding Hurts, Even with a Good Latch – Nipple Vasospasm
Shop This Post
In the USA:
In Canada:
Pin It For Later