These are the 6 best books to read during pregnancy that I've found. They support a natural pregnancy, birth, gentle postpartum and breastfeeding for you and your baby.
This post contains affiliate links, which means I make a small commission at no extra cost to you. See my full disclosure here.
I read a lot with my first, now with a busy schedule I stick to my minimal list of 6 must-read books during pregnancy in preparation for birth, breastfeeding and postpartum.
Most of these books are on audible too. If you're anything like me – a busy mama – and prefer to listen while driving or doing the dishes.
Why should I read these books during pregnancy?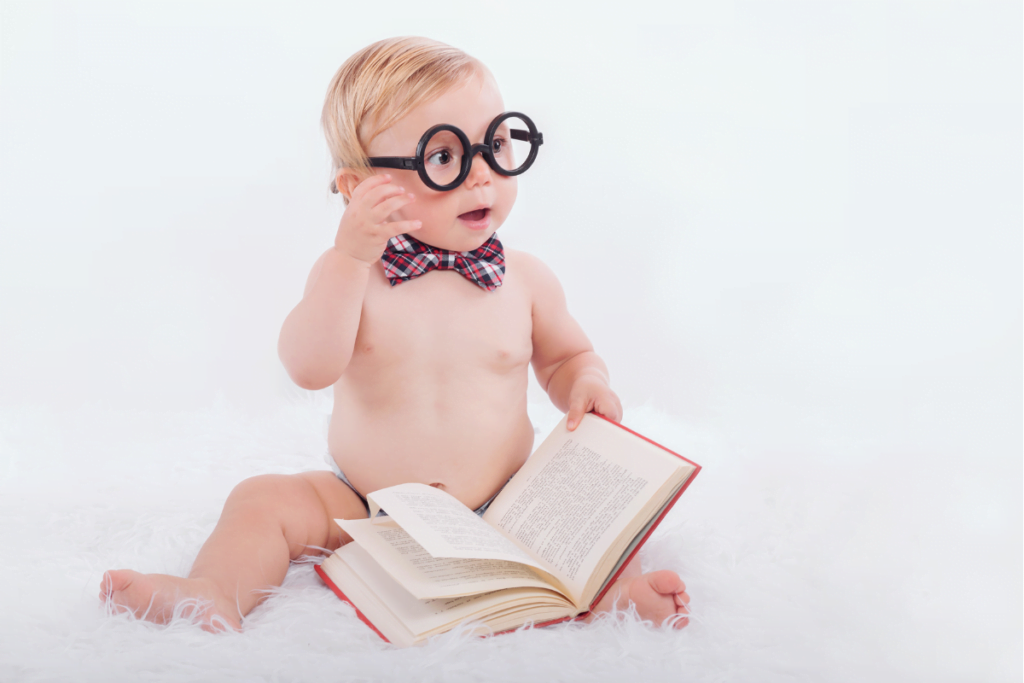 If you are looking for reassurance about birth and postpartum, and you want to do things naturally, this is your book list. A wise older woman I know says, the babies never read the books. She's right! They don't necessarily all follow the lovely advice and schedules we desire, most don't.
So why bother reading any books? Well, we have lost so much womanly wisdom and second guess our motherly instincts. These books help restore this and give you confidents to trust that you as the mother do know best. Even though my experiences varied widely with different babies and I still feel these books were so helpful.
I believe knowing the natural rhythm of this beautiful (and hard) season of life helps you know what to expect is so comforting. Wisdom, knowledge and holding your hopes loosely as you take it as it comes is so important. I feel these books support you organically and are filled with reassurance in how you are build to birth and be a beautiful mother.
What books should a pregnant woman read?
These 6 best books to read during pregnancy are in the order I'd recommend, especially for a first time mom. But hey, if you're feeling nervous about anything in particular, or not a first time mama then just dive right into whatever book meets your needs.
These books walk you through pregnancy to postpartum.
Reading these books gave me so much insight into our amazing bodies and what they are designed to do! They range from practical advice of things you can do to take care of yourself in this incredible time. You'll find reassurance if you are feeling nervous or down right scared about birth as well as the all important postpartum time, with breastfeeding and sleep.
With my first baby, a friend and I were so scared about birth. We'd heard so many horror stories that we only focused on reading books about birth to encourage us, and we came away with confidence.
However, as soon as our babies were born we both said we wished we'd spend more time reading about breastfeeding and sleep. Oh yes, sleep… that elusive thing. Let's just say I didn't even know there was a forth trimester, it's a very real thing!
My Minimalist List: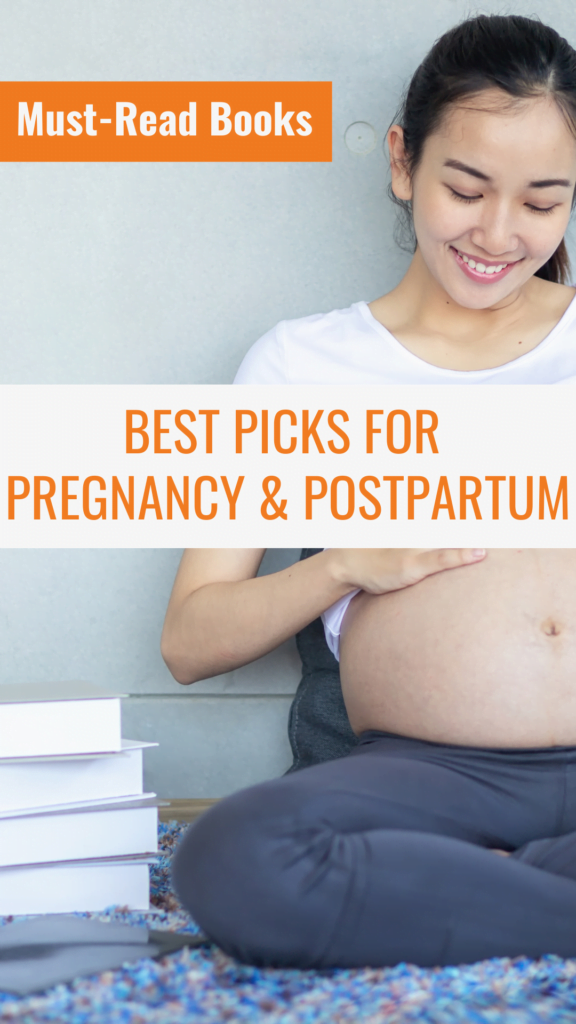 4 Must-Read Books During Pregnancy
Now if your a busy woman, like most of us, you don't have time for reading (or listening to) all of the books I recommended. So I've made a list of my absolute must-read books. I've also indicated what I think is most important to read within the books if you are super short on time.
Even while typing this minimal list, I want to convince you to read the other 2 books I suggested. There's a reason I told you about 6 fantastic books to read during pregnancy! But minimal list this is.
What about postpartum you say?
Well as much as I think you should read about the 4th trimester in Natural Health After Birth. Even if you just read a few blog posts about it such as these blog posts by Angie Toplin from Courageous Mom by clicking here. You can read this book more later once you're in the throws of things if your crunched for time. Though if you want to be prepared and enjoy a smoother transition to postpartum, then read it before if you can.
The Full List
The best books to read while trying to get pregnant & during pregnancy.
Author Aviva Romm
The Natural Pregnancy Book is a must-read for anyone who is trying to conceive or in early pregnancy to late pregnancy.
Dr. Aviva has been a midwife and herbalist for over 25 years, she is a MD as well who specializes in women's health and how to take back your health naturally.
It's so easy to find what you are needing help with during pregnancy in this book.
There is so much advice on how to treat natural common pregnancy challenges: a threatened miscarriage or a miscarriage, morning sickness, low energy, natural birth preparations, herbs and oils that are safe or not safe during pregnancy and so much more!
I love that a lot of the advice is natural diet and herbal based. She even touches on women's emotional health during this all important time.
If naturally pregnancy is something you're aiming for click here to get a hard copy of The Natural Pregnancy Book.
The 2 best books to read about birth
Like I said, I'd only heard awful stories about birth and can't handle pain. I was scared of giving birth. These books totally helped calm my fears around birth and give me confidence in my body. I even gained an excitement as I approached the birth of my babies.
Author Ina May Gaskin
Ina May is called the most famous American midwife, the mother of midwifery. She's full of experience, she has been practicing as a midwife since she was a young adult in the 1960s.
The first half of Ina May's Guide to Natural Childbirth is packed full of so many powerful positive birth stories giving you faith in your own body!
Ina May, is like the grandmother midwife who's seen it all, she's cheering you on as you approach birth. She's trying to convince you that you are build to birth beautifully!
The second half of her book goes through how to birth naturally. She covers so many things I wanted to know about or had questions about.
If you don't have the privilege of having a midwife, she can be yours through her book by clicking here to get your own copy of Ina May's Guide to Natural Childbirth.
If you would rather listen to it though Audible here.
(Pro Tip: Hire a doula if you can regardless your birth plan, especially if this is your first birth. It's worth every penny a thousand times over! Even Ina May highly recommends it.)
Author Angie Tolpin
If you're scared about giving birth and want to have a Christian perspective on it, Redeeming Childbirth is your book!
Angie is a mama of 8 kids and doula, who has a passion to help women surrender their birth to Jesus. Really the entire pregnancy, including morning sickness! It's such an encouraging, Biblical, practical book. It made a big impact for me! It helping me be able to surrender the contractions and unknown of birth, trusting God through it all.
Her husband even wrote a chapter to help encourage the dad's how to practically support the mama through pregnancy & birth. It's filled with encouragement and questions to help you prayerfully reflect on as you prepare for birth.
To order your own copy of Redeeming Childbirth click here.
The 3 Best Books to Read When You're Preparing for Postpartum
Take it from me, postpartum is all about healing, breastfeeding and sleep and you need to be informed.
Read these in your third trimester, don't wait for your sweet baby to come, it's easier, trust me!
But let's be real, I read or listened to them on Audible after my first came because I just didn't know. So if that's you, just start listening to them while you're feeding your baby or whenever.
If you are reading this post and are pregnant still, read em now! I'd recommend having them handy to reference parts of the books again once baby is here, especially if it's your first baby.
Author Ina May Gaskin
Why a book on breastfeeding? Isn't that natural and apart of your mother intuition? Yes and no. Mothers used to surround one another to support and help new mother's establish a successful breastfeeding relationship with their baby. This has been virtually lost in todays western culture.
That's why I love Ina May's Guide to Breastfeeding! Ina May with her decades of experience caring for pregnant women, mamas and babies, gives so much practical advice that will help you nurse your baby in the most joyful, natural, and fulfilling way possible for both you and your baby.
My favourite part in this book is the two chapters dedicated to breastfeeding in the first week postpartum. Tips for how to meet your baby's needs and yours as well as problem solving tips. I totally recommend re-reading or listening to these chapters during that critical first week.
She answers so many questions like, the benefits of breastfeeding, nursing challenges, pumps and other nursing products, sleeping arrangements, nursing multiples, sick babies, weaning, medications, nipplephobia, and so much more!
Ina May's Guide to Breastfeeding is full of helpful advice, medical facts, and real-life stories. She walks along beside you to establish a beautiful, healthy, comfortable, natural breastfeeding relationship with your baby.
Click here to get this valuable book, Ina May's Guide to Breastfeeding, in your library.
Don't the mistake of not reading about postpartum and sleep!
Remember how I told you my friend and I read a ton about birth and nothing about postpartum? Well, we quickly realized that besides feeding the baby, sleep is the other all important postpartum factor.
I remember after waking for the millionth time in the early weeks, I lifted my hungry, crying baby out of the bassinet, sat down to nurse in my rocking chair, then suddenly woke with a start as my baby fell… onto the nursing pillow in my lap. Thankfully she was fine, but this experience scared me. I was so sleep deprived, I couldn't keep this up.
So in-spite of my fears about bed sharing I figured it must be safer than dropping her from the chair. So into bed we both went. Surprisingly that morning I awoke feeling the most rested I had in days. My baby was happier too, she'd had what she'd been crying for – mama snuggles and milk. This is the moment I realized bed sharing could be a wonderful thing.
I was still fearful of the risks! That morning texted a doula friend she shared The safe sleep 7 checklist by La Leche League. This is a very controversial topic, so only do what is safest for your baby and works for your family!
Authors La Leche League International, Diane Wiessinger, Diana West, Linda J. Smith, Teresa Pitman
Then I started stressing about sleep training. All the other moms were talking about how well it works. My baby sure wasn't sleeping well no matter what I tried, so I attempted some methods, but it didn't fit us. Then a friend shared this book with me, Sweet Sleep. I'm so glad she did!
As I listened to this book while breastfeeding (if you can't tell by now I don't read much, but I love listening to books on Audible) I realized I really could have a restful and stress free breastfeeding-sleep relationship. I no longer felt guilty or pressured and had confidence in my mothering instincts. It was amazing!
So even if you disagree, and that's ok, I did before I had my first baby. I'd recommend you at least learn about the safe sleep 7 checklist. I'd also encourage you to set up your sleep space so that if you have an "emergency" like I did and bring your baby into bed, you can do it with confidence
To order your own copy of Sweet Sleep which goes into detail about the safe sleep 7 too, click here.
Aurthor Aviva Romm
The fourth trimester is a thing that I'd never even heard about until I was in it. Let me tell you, it's real!
Aviva Romm, a mother of 4, midwife, herbalist and doctor, gives practical advice for adjusting to the many challenges facing women during the first year after giving birth. She is full of practical tips for being birthed into motherhood while maintaining a sense of self. How to prepare for that fourth trimester and beyond. Aviva includes gentle yoga exercise, herbal tips, ways to replenish your body, mind, spirit so you can nurture your baby.
Click here to get your own hard copy of Natural Health After Birth: The Complete Guide to Postpartum Wellness.
What books did you love reading during pregnancy and postpartum?
Have you read any of these 6 books during pregnancy? Which were your favourites? What pregnancy, birth or postpartum books are your go to's? I'd love to hear about them, let me know in the comments below.
Check out more of my posts on breastfeeding:
What To Do When Breastfeeding Hurts
Breastfeeding Hurts, Even with a Good Latch – Nipple Vasospasm
Shop This Post: The 6 best books to read during pregnancy.
Get Audible to listen to these must-read books during pregnancy
Pin for later